Dearborn Heights, Michigan Deck Repair, Deck Restoration & Deck Cleaning


Setting the standards in Dearborn Heights, Michigan deck restoration since 1991

Supreme Deck is one of the most sought after deck restoration contractors in Michigan. We set the standards in deck sealing, staining, cleaning, refinishing, repair, maintenance of composite Trex , wood decks , play sets, and log homes. Supreme Deck has serviced & restored over 16,000 decks and fences in or near the Dearborn Heights, Michigan, area since 1991. For the best professional results, our deck stain is hand brushed for top quality. We have the ability to remove most prior finishes, including Behr and restore them with premium contractor penetrating oil coatings (Olympic, TWP, Sikkens, Messmers, Cabots, & Duckback Superdeck). Unlike other deck cleaners and contractors, we don't require a deposit to book your restoration job. Itís just another way as professional deck cleaning contractors we strive to provide you with peace of mind. Contact us today for more information on our deck refinishing services.

**PLEASE NOTE THAT DURING PEAK MONTHS (APRIL-JUNE)
WE ONLY SERVICE A LIMITED NUMBER OF CITIES.

Is your cedar deck Rotting? Time for a new deck?

WE BUILD & REPAIR DECKS YEAR ROUND


SUPREME DECK is one of the largest TrexPro Platinum deck builders or installers of composite decks in Dearborn Heights, Michigan. Supreme Deck has earned a TrexPro Platinum status, which is the highest level of recognition available for an independent contractor. We are licensed & insured deck builder. Deck replacement, floor replacement, or resurfacing is becoming a popular option with many homeowners. It is a less expensive option than a complete build. Count on a professional deck contracting company like Supreme Deck to give you a fair estimate on any services needed on your new or existing deck. We are your one-stop-shop deck contractor company.

Request a quote: (313) 242-1000
Dearborn Heights, MI Deck Refinshing
Dearborn Heights, MI Deck Restoration
Dearborn Heights, MI Deck Builders
Dearborn Heights, MI Deck Contractors
Dearborn Heights, MI Construction
Dearborn Heights, MI Deck Maintenance
Dearborn Heights, MI Deck Cleaning
Dearborn Heights, MI Deck Repairs
Dearborn Heights, MI Power Washing
- Log Homes, Fences & Furniture
Dearborn Heights, MI Pressure Washing
- Composite & Trex Decks

Is your deck safe?
Built to city code ?

New homeowner with an existing deck? We can check to see if your deck is up to Dearborn Heights, MI Code. Your deck is an investment. Keep your deck not only looking beautiful, but safe. Make sure it's properly sealed with quality coatings. Supreme Deck is a licensed deck contractor to handle your deck repair needs.

All Sealers Are Hand Brushed For Quality.
This Gazebo Was Finished With
TWP Wood Finish | Preservative.
Michigan Deck Cleaning


Why didn't my Dearborn Heights, Michigan wood deck hold up or last?

There are several reasons why deck sealers and stains do not hold up. The most common is that the deck was not prepped or cleaned right. Any time a finish or oil based coating is applied; all of the previous coating or treatment must be removed. Proper cleaners must be used to open the wood fibers to accept stain. We do this by using a mild deck stripper and pressure washing the deck with low pressure, letting the chemical do the work. If all the prior coatings from the deck is not removed the new coating will not penetrate deep enough into the wood and eventually fail. Another reason deck coatings also fail because an inferior product was used, such as hybrid deck coating claiming to last 5 years that form a film.

Home Depot or Lowes market their deck stains as the "longest lasting" or "Best Deck Stains". You will be lucky to get a summer out of most of them. Behr Premium "oil modified" water based hybrid stain does not penetrate the wood, instead it puts a film on top of the wood which will eventually peel. Due to VOC laws, box stores stock water based products for novice users and carry very little premium oil based penetrating coatings for deck cleaning contractors. For best results and the best deck stain, it is best to stay away from the box stores.

DON'T USE BEHR COATINGS FROM HOME DEPOT!
THEY WILL COST YOU A LOT TO REMOVE!

The last reason deck coatings fail is that the stain was sprayed over a surface that was not prepped right. Deck restoration is a process that needs to be properly followed. Simply pressure washing a deck or a new deck is not properly prepping the wood to accept stain. The correct process is Stripping the old finish with correct chemicals, pressure wash, brighten, let wood dry, and stain. When working with chemicals on the wood, remember it needs to be properly ph balanced to get desired results. Finally, spraying deck coatings just doesn't work the oil stain evenly into the wood as well as hand brushing it does. A high end oil based deck stain like TWP 100 or Sikkens Cetol Srd is best when applied by brushing it for a professional even satin finish.


The Dearborn Heights, Michigan Wood Technology Experts For :
Deck Cleaners, Refinishers near Dearborn Heights, Michigan
Your deck needs to be professionally finished if you want expert results. Supreme Deck Restoration is one of the premier deck restoration companies in Southeast Michigan (MI) area including Dearborn Heights, MI to help restore your deck professionally. Please don't make the mistake a lot of home owners make by hiring an inexperienced "guy" or handyman to simply pressure wash and stain the deck because they cost less. There is much more to it for lasting results. For professional restoration results all the old sealer must be chemically removed and stripped off the deck before any new sealer can be applied. Cedar grain will naturally raise a little when it's stripped, so a professional wood restorer will remove as much of the fuzzies as possible. Because cedar loses its natural oils over time, a professional grade oil based deck sealer should be considered. A penetrating oil based wood sealer such as TWP, Olympic, Rymar, Messmers, Cabot, Sikkens Srd, Penofin, or Superdeck stain will help replenish and protect the wood inside and out and offer a rainbow of colors for your deck.

It is recommended by all the top deck stain manufactures that every two years a deck should be cleaned and sealed. New decks still need to be cleaned to remove all of the mill galze. However, sealers on a new cedar deck will last more than a season. This is because the wood will not hold as much oil based sealer and high levels of natural oils are still present.

.......Remember this,.. chemicals clean and water rinses...
Dearborn Heights, Michigan Deck & Fence Repair & Log home Restoration Services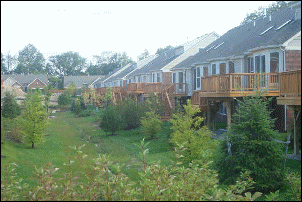 Dearborn Heights, Michigan Wood Restoration

Exterior wood restoration is our specialty. Restore decks is what we mostly do. Between 1,200-1,500 decks a year. We never use the force of high pressure washing or powerwashing to strip a deck; instead we properly use bio-degradable cleaners and strippers to remove failed stain and sealers to strip a deck, along with a light powerwashing to rehab the deck. We let the pressure washing soap & chemicals do most of the work. We only apply non-film building transparent stains that are contractor friendly. We have several crews and can tackle large 100 deck condo complexes in under a week.
On large condo complexes to individual decks for a professional job


---WE HAND BRUSH ALL OF OUR STAIN.---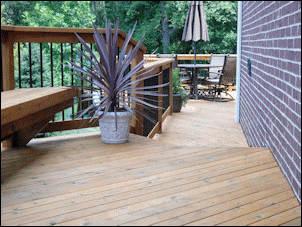 Dearborn Heights, Michigan Staining, Sealing & Refinishing
Supreme Deck Restoration, Inc. does't spray our sealers or deck stains, instead they are all hand brushed for top quality and control. Painters and start up deck companies like to spray their coatings to save time and offer lower prices. Painters usually "throw" in the deck to get the house painting job. Painters are not experienced in removal of deck coatings. This is the most important step to a professional deck restoration job. Start up deck service companies think that a simple pressure wash will remove the existing coating and usually tear up the deck with the high pressure. Furthermore, if problems occur these companies can't be found because they don't have enough experience to correct their damage. Supreme Deck Restoration only uses top rated coatings on all of our decks that are easily removable. Products we use are TWP Preservative, TWP 1500, Sikkens Cetol Srd, Rymar, Messmers UV Plus and Olympic semi-transparent oil based deck stains. These oil based coatings are contractor friendly and penetrate deep into the wood for extra protection. Film based coatings like Behr are very difficult and expensive to remove and do not penetrate into the wood.




Superdeck Heart Redwood 1905 Rainbow Play set factory color
Dearborn Heights, Michigan-- Redwood play set sealing & Play Structure Refinishing
We can also refinish and restore your redwood play structure or play set. Your play structure takes up a lot of space in your backyard, so why not refinish and restore it while you are refinishing or cleaning the deck? We have refinished hundreds of play sets over the years back to the original factory finish. We can finish your redwood play structure for far less than the factory will, especially if it is done with the wood deck. We will strip the existing coating from your high end Redwood Play Structure and replace it with the original Duckback Superdeck Heart Redwood 1905 factory finish.


Restore your Dearborn Heights, Michigan Boat Dock


If you live on a lake in Michigan chances are you have a wooden boat dock. If you are like most home owners your boat dock has an inch of mold on it. This is the reason that it gets slippery. Cleaning and sealing your boat dock it will extend the life and appearance of it. When its time do restore the deck, remember to ask for an estimate to stain other exterior wood, railroad ties, teak furniture, picnic table, and the wooden boat dock.

Dearborn Heights, Michigan Deck Builders & Deck Construction


Supreme Deck is a licensed and insured Michigan deck building company. Deck floor replacement or resurfacing is becoming a popular option with many deck owners. It is a less expensive option than a complete build. Expect a wood deck to last for 20 years before replacing any boards. The break even point for a composite deck is 11 years. If you are staying in the house under that time frame consider a cedar deck over a composite deck. Wood decks cost half of composite decks.




Dearborn Heights, Michigan Deck Painting Contractors
We service decks that have been previously painted or solid color stained. Putting Solid color stain on a deck is corrective work. You never want to paint a deck floor. If your deck has been painted you have only a few options. Pressure washing DOES NOT remove paint. Sanding is one option to remove all the paint. The other is an aggressive chemical strip, followed with sanding. If you want a natural stain replace the floor with new wood. The least expensive option is just to repaint the deck again. However, the paint we apply is only as good as the original coating, meaning it will probably peel again on the flooring (no matter what the paint can says). No contractors can guarantee that a solid color will last more than a summer or two on the floor. This deck was painted with Behr Solid Cedar


Deck Leveling in Dearborn Heights, Michigan
This past winter is one of the worst our state has seen in years, causing many decks in Dearborn Heights, Michigan to sink or heave or fall out of level. This deck in Dearborn Heights, Michigan was an example of what we saw on a weekly basis. Our crews replaced 5 posts that were only sunk 36" into the ground. Michigan code requires you to go at least 42" into the ground, below the 36" frost line. Clay expands causing the ground to push anything out, including concrete and deck poles. There is no warranty on deck leveling. Unlike Handyman, Supreme Deck Restoration, Inc carries full workman compensation and liability insurance for this type of work. We have leveled more decks the last two years than the past 10.




Dearborn Heights, Michigan Deck Cleaners & Refinishers


A popular option with homeowners is what we call paint and stain. This is where the vertical rails are painted with a solid color stain (usually to match the house) and a transparent coating is applied to the flooring. This will eliminate the chances of the floor peeling. Once the rails however are painted there is no longer the option to go natural in the future. Trust Supreme Deck Restoration to restore your wood or composite deck.






Dearborn Heights, Michigan (MI) TrexPro Platinum Builders

We are a leading Trex composite deck installer in Michigan. Most homeowners don't know that in order to get the Trex 25 year warranty, your Trex deck must be installed by a certified TrexPro contractor. Supreme Deck has earned a TrexPro Platinum status, which is the highest level of recognition available for an independent contractor. TrexPro Platinum builders are the leading TrexPros in their markets, with demonstrated ability and expertise to design and build outdoor living projects with Trex, ranging from the simple to the most complex. Look for the TrexPro Platinum icon when youíre searching for a new Trex deck in Michigan.

Supreme Deck is a TrexPro Platinum carpenter for Dearborn Heights, Michigan (MI) .




Dearborn Heights, Michigan (MI) Deck Repair & Building
We offer complete deck services from the repair of one floor board to a complete deck installation. We try to weather most of our boards prior to installing them to insure they match up better to the rest of the deck. New cedar lumber has a mill glaze on it that acts like a skin and does not allow the stain to penetrate properly causing it to stand out for several years. Most repair companies go to Lowe's or Home Depot to buy new cedar decking, so when it's installed the floor looks very uneven (old and new boards). We have solved this problem. When we wash and seal the deck all of the boards are very close to matching up when the job is complete.


Dearborn Heights, Michigan Wood Cleaning & Cleaners
The cedar that most people are using for decks is not as rot resistant as the cedar that was being used 30 years ago. In the old days, cedar and redwood decks were built from old growth lumber, which was loaded with oils and natural chemicals that made it highly resistant to insect attack and decay. These days, the wood is coming from new growth and managed forests. This newer lumber contains lots of sapwood which will rot decay faster. Plus, it cracks and splinters. And if it's not kept treated, it generally looks bad after a few years. Supreme Deck Restoration has the experience to service exotic hardwood decking such as IPE, Bamboo, and Mahogany.



Deck above sealed with TWP 101 Cedartone-Preservative

We ARE NOT a Dearborn Heights, Michigan $99 Low cost deck Cleaning or Pressure Washing Company
This is what can happen when an inexperienced low cost deck restoration company is hired. Remember the saying "you get what you pay for", it is no different in our industry. We get several calls a season to finish work other companies started. This picture is an example of what we see every summer. The stain on the brick will not come out and the landscaping around the deck (that is not shown) is browned out and dead. Could you imagine coming home to this? Don't let a photo of your deck make it here. We see these jobs all over the Dearborn Heights, Michigan, (MI) area. Most painters and start-ups like to spray their stain to save on time. Deck stain is very light and travels far even with slight amounts of wind; cleanup can be a nightmare, if not impossible. All of our stain is HAND BRUSHED for control.

An example of mold on a composite deck floor Floor.

Dearborn Heights, Michigan (MI) Composite Cleaning
Trex composite Pressure Washing and deck cleaning


Here is an example of the mold that forms on composite decking material. Supreme Deck Restoration has a process that removes most of the mold and restores composite decking, Menards composite, and TimberTech very close to the original color.

Composite manufactures now recommend that these composite decks without the pvc wrap should be sealed with a water based deck sealer to prevent mold from forming as fast. By using a composite cleaner and pressure washing the composite deck we can eliminate most of the black mold spots. Just a simple power wash or pressure wash will not work alone. All Trex and other composite decks need to be cleaned yearly for routine maintenance in Dearborn Heights, Michigan (MI).

A composite waterborne deck sealer will prevent mold from forming as fast on any composite deck without a pvc wrap. Azek, Trex Transcends, Trex Select, Fiberon, and other PVC decking with a wrap are the only decks we see that do not need to be sealed. Before replanking or replacing your deck floor with composite.
DO YOUR RESEARCH ON COMPOSITE DECKING.